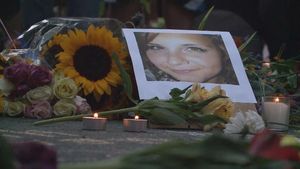 by Chris Cerbo | Posted: Wed 4:37 PM, Aug 08, 2018 | Updated: Wed 6:30 PM, Aug 08, 2018 
CHARLOTTESVILLE, Va. (CBS19 NEWS) -- A New York-based musician is hoping a song dedicated to Heather Heyer will help heal some of the painful memories of the Unite the Right rally in 2017.
Drew Velting, a musician based out of Long Island, said that while he may not have known Heyer personally, her death and funeral left a lasting impression on him, and he aims to ensure that her death was not in vain. 
"I'm really hoping that the song will really support Heather Heyer's legacy, as someone who, unfortunately, died an untimely, premature death in the service of trying to help other people," Velting said. 
When asked about a stranger writing a song about her daughter, Susan Bro, Heyer's mother, said, "It's not as important to me to have my daughter's story make it around the world, as the idea of people are putting action into place to try to stop the spread of hate, to try to bring about racial equality." 
While Velting agrees that more needs to be done to address issues of prejudice in society, he said that he is glad to be able to contribute in some small part to the cause. 
"For me, it's important that I can make a difference by helping people to remember who she was, and that's why hopefully the song will be an account of what happened," he said.
Another underlying message in the song is that it is time for politicians to step up and help combat hatred. 
The song is called the "Mournful Death of Heather Heyer" and a music video will be released before the Aug. 12 anniversary. 
Velting plans to donate the proceeds from the song to the Heather Heyer Foundation.
Click here to watch the feature story on CBS19 News (Charlottesvile, VA)